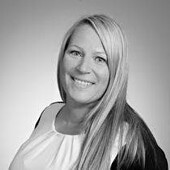 Katariina Hannelius
Director
Katariina was lured into the weird and wonderful world of market research recruitment in 2004 by her previous employer, RPCushing, after completing a Post Graduate Diploma in HR. Katariina enjoyed nine wonderful years at RPCushing (Aspire), expanding her role over the years to head up a team. During this time Katariina also spent 6 years on the Research Club committee, until having having her daughter.

With almost a decade's experience, Katariina felt she was ready to fly solo and in the summer of 2013 took the plunge and launched her own venture. Now Hannelius Recruitment has a team of 6 and have just turned 10 years old!
Being passionate of the industry she works in, Katariina was instrumental in making MRS Oppies happen and launched and making sure the early years had enough sponsors and visibility! Again - another 10 year anniversary coming up!
Over the years Katariina has particularly recruited for more operational roles within market research from programming, data processing, panel management to sales and project management. However Katariina got into all the full service Research roles several years ago and since then there has not been anything stopping her working on most senior level Research roles as well. She covers all levels, from junior to the highest senior level, MD to CEO. Katariina has an incredible network of friends and contacts in the industry, making her uniquely positioned to make that magic match. She is an instinctive relationship builder and gets a real buzz out of helping. 
In her spare time - if Katariina has any left she loves hanging out with her 12 year old daughter, their dog, 2 cats and family and friends. 
And don't be fooled if you see she is in Finland or in Spain - majority of her hols she is working as well... YES - WE KNOW, WE ARE TRYING TO STOP HER!